Effect of multi-modal exercises after hemiarthroplasty of hip joint in a 72 year old male Parkinson's disease participant. A case report
Parkinsonism Hemiarthroplast Quadriceps strengthening Balance exercise
Abstract
Background. Parkinson's disease is a progressive and deteriorating disease which often affects the mobility of
individuals of above 60 years. A fall is one of the risk factor and especially the neck of femur fracture was very
common among them. In India, the physiotherapy intervention of Parkinson's patient after hemiarthroplasty
was poorly defined when compared to total hip arthroplasty. Thus, we have taken a single case study as an
initiative with multi-modal exercise on physical function of Parkinson's patient after the hemiarthroplasty.
Case presentation. A 72-year-old man with symptom of Parkinson's disease and stage 3 of Hoehn and Yahr
classification for past 1 year had a fall and underwent hemiarthroplasty for the left sided neck of femur fracture.
After post-operative check x-rays and vital signs are normal, we have started multi-modal exercise with
initial bed mobility exercise, breathing exercise and chest percussion technique, balance training in sitting and
standing with gutter crutch, proprioceptive training, psychological counselling, progress to resistance exercise
to quadriceps and stretching the calf muscle for 12 weeks. We have gradually reduced the gutter crutch to
walking stick and gradually without walking aids at the end of 12 week protocol. We have continued the exercise
for the patient and follow-up at 24 week also to check the status of physical function of patient. We have
assessed the patient at the baseline and post-12 week with post-24 week follow-up using sit to stand and
timed up and go test performance as an outcome measures. The physical performance showed significant
changes in the post-12 week of patient when compared at baseline values and even continued significance at
post-24 week of multi-modal exercise also.
Conclusions. Thus, the multi-modal exercises proved to be more beneficial on physical function for the Parkinson's
patient with hemiarthroplasty. Even, we have found that the earlier mobilization had promoted the
confident of patient and active participation of progression is faster in this case study.
CASE PRESENTATION
A 72-year-old right- handed man presented with left neck of femur fracture due to sudden blackout while standing near his house and fall directly on left side. He was immediately hospitalized and the vital signs were normal and general physical examination was unremarkable other than for left sided femoral neck fracture. He had a symptom of Parkinson's disease with stage 3 of Hoehn and Yahr classification for past 1 year and taking medication by supervised neurophysician. His family members who were the informant said that normally a talkative and active person but had become unusually quiet for past 1 year and less active. There was no past history of Diabetes, Hypertension, strokes, mental illness or chronic alcoholism and his cognitive state was normal. His recent memory and immediate recall were not impaired. Routine haematological and biochemical laboratory tests were normal. He underwent the hemiarthroplasty of left hip joint after the thorough examination by orthopaedic surgeon. The vital signs have been stable for him during the acute post-operative period. A post-operative check X-ray of left hip (Fig. 1) also revealed no abnormality. After getting the informed consent from the patient, we have started the ankle pumping exercise, isometric exercise to major hip and knee joint muscles with breathing exercise and chest percussion technique, incentive spirometer exercise for 3 session per day. After he was shifted to the separate suite room, orthopaedic surgeon advised the bed mobility exercise and walking with the gutter crutch for his comfort. He was attentive, able to do all this scheduled exercises but because of Parkinson's he had slowness of movement and poor balance while in sitting on the bed side itself. In India, the evidence of multi-modal exercises (various mode of exercises have been illustrated to improve the physical function and quality of life) on patients with Parkinson's disease after hemiarthroplasty was not represented till now. Thus, we planned for balance training exercises in sitting on bed side and standing with gutter crutch support along with quadriceps arc exercise, hip abduction resistance exercise, calf stretching exercise with psychological counselling. He was discharged to his home on day 7. Meanwhile, at the day 5 we have assessed him sit to stand timing from the hand supported chair with the gutter crutch support. When seen a 2 week later at the outpatients we examined the sit to stand timing and also timed up and go test performance to check his physical function. We continued the supervised balance exercise, proprioceptive training and resistance exercise to the quadriceps muscles and hip abductor of both legs, ankle stretching exercise for 40 minutes of duration per session and 5 days a week for total of 12 weeks. We also had a subsequent follow-ups after 24 weeks with timed up and go test for his changes in physical function. He was now independent for basic self-care and performed well on timed up and go test without any walking aids.
DISCUSSION
Our patient presented with hemiarthroplasty who had a past 1 year of Parkinson's symptom under medication. Fall is a risk factor for Parkinson's patients especially the hip fracture is very common in those above 60 years 1. Moreover the repeated fall had been the hectic problem to the Parkinson's patient even after the surgical intervention. This will deteriorate the routine life care and physical function of patient and thereby socio-economic burden to the family member also. This symptom disturb its progression of bed mobility and daily function. Several studies have evaluated the outcome of total hip arthroplasty in Parkinson's disease patients with hip fractures 2. Unfortunately these surveys are not accurately applicable to a hemiarthroplasty. In order to support the current evidence regarding the outcome of hip hemiarthroplasty in Parkinson's disease patients we carried out a case study as an initiative. It's really challenging for the physiotherapist in the rehabilitation team to make him motivated and start his active life style and thereby to justify the family members. Nocera et al have found that when the severity of the Parkinson's disease increases the knee extensor strength was more weaker 3. Exercise programs which are focused on improving muscle strength may also improve the physical function in patients with Parkinson's disease 4. In our study, the multi-modal exercises like balance exercise, proprioceptive training and quadriceps resistance exercise helped him to be independent on his basic life care and improved physical function. In between the episodes, sit to stand test and timed up and go testing revealed the significant changes in the physical function of the subject. Even we have found that reaction time of quadriceps contraction performance on post-12 week and post-24 week have shown significant improvement than from the baseline and post-1week period of multi-modal exercise intervention. Aggressive physiotherapy and early mobilization was advised for patients with Parkinson's disease undergoing hemi-arthroplasty 5. Moreover our patient had more confident after the physiotherapy intervention and he also able to maintain his balance in sitting and standing with the gutter crutch support. Furthermore, it is generally believed that more the attentive patients throughout the intervention and motivated by the family members in each stage of progression psychologically he will more confident and co-operative throughout the intervention protocol. Mathew et al states that the delay in the post-operative mobilization exercises after hemiarthroplasty in patients with Parkinson's disease were shown poor results in their physical outcomes and few patients attain mortality rate (37%) due to other complication 6. We had seen this patient was more co-operative and confident on throughout the each stage of intervention protocol. There are some limitations to this study which needs further research. Firstly we have taken the patient with 1 year of Parkinson's symptom and we need to examine the intervention to the patient with history of prolonged period of Parkinson's disease. Secondly, we have taken the patient with cognitive function normal, whereas the Parkinsonism with dementia patients should also be examined for cognitive impairment level and effect of intervention changes on physical function. Nevertheless we believe this case presentation adds to the concept that the balance exercise, proprioceptive training with quadriceps resistance training will promote the hemiarthroplasty underwent Parkinson's with active participation in the community and continued to be healthier aging. The effectiveness of this multi-modal exercises can be compared with the single mode of exercise on physical function of more Parkinson's patients. The positive effect of this multi-modal exercise on balance and physical performance in Parkinson's patient can be implemented to all the elderly people for the healthy aging.
Figures and tables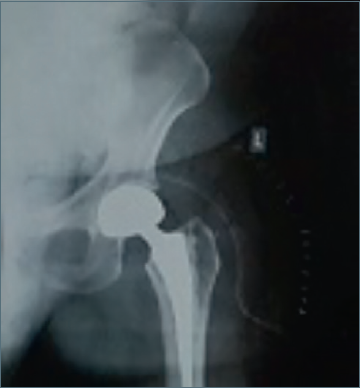 References
Pringsheim T, Jette N, Frolkis A. The prevalence of Parkinson's disease: a systematic review and meta-analysis. Movement Disord. 2014; 29:1583-90.
Weber M, Cabanela ME, Sim FH. Total hip replacement in patients with Parkinson's disease. Int Orthop. 2002; 26:66-8.
Nocera JR, Buckley T, Waddell D. Knee extensor strength, dynamic stability, and functional ambulation: are they related in Parkinson's Disease?. Arch Phys Med Rehabil. 2010; 91:589-95.
Hirsch MA, Toole T, Maitland CG. The effects of balance training and high-intensity resistance training on persons with idiopathic Parkinson's disease. Arch Phys Med Rehabil. 2003; 84:1109-17.
Turcotte R, Godin C, Duchesne R. Hip fractures and Parkinson's disease. A clinical review of 94 fractures treated surgically. Clin Orthop. 1990; 256:132-6.
Mathew PG, Sponer P, Kucera T. Total hip arthroplasty in patients with Parkinson's disease. Acta Medica (Hradec Kralove). 2013; 56:110-6.
License
This work is licensed under a Creative Commons Attribution-NonCommercial-NoDerivatives 4.0 International License.
Copyright
© Società Italiana di Gerontologia e Geriatria (SIGG) , 2019
How to Cite
[1]
Senthil, P., Parvathi, S., Senthil Selvam, P. and Radhakrishnan, R. 2019. Effect of multi-modal exercises after hemiarthroplasty of hip joint in a 72 year old male Parkinson's disease participant. A case report. JOURNAL OF GERONTOLOGY AND GERIATRICS. 67, 1 (Mar. 2019), 13-15.
Abstract viewed

- 132 times

PDF downloaded

- 47 times